Newark and New Brunswick have some of the best medical schools in New Jersey, with connections to important state healthcare and hospital groups. But outside of these two locations, New Jersey has plenty more to offer students interested in healthcare education.
Students enrolled in any of the five allopathic and osteopathsic medical schools located here can be sure of receiving a top-tier education under the guidance of esteemed medical professionals.
Let's take a look at the best of them!
List of the 5 Best Medical Schools in New Jersey
The following schools are ranked according to their position in the US News Top Medical Schools – Research list for 2022. Where some schools are tied, we've used our subjective opinion as medical students and medical graduates to position them.
1. Rutgers New Jersey Medical School in Newark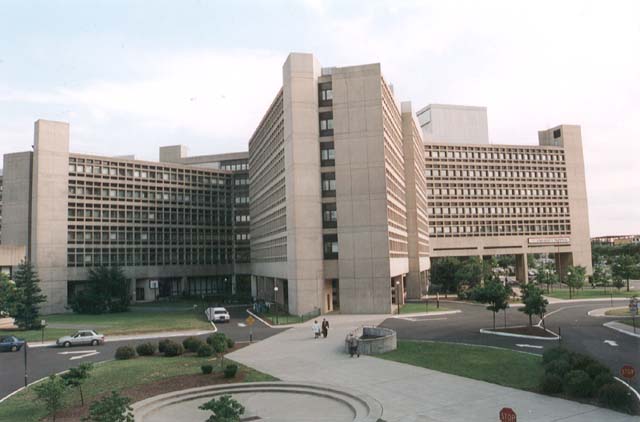 New Jersey Medical School (NJMS) is a graduate school of Rutgers University. Founded in 1954, it's the oldest medical school in New Jersey (check out the oldest med schools in America in this article; 10 Oldest Medical Schools In The US (Study With The Greats)) In 2021, US News ranks NJMS #66 in the Research category.
The school is on Rutgers University's Newark campus. Each class at NJMS consists of about 170 students, making for a cohesive student body.
University Hospital, which is the school's core teaching hospital, is also located on campus. This hospital is home to the busiest Level I Trauma Center in New Jersey and is the state's largest provider of charity care. It also has one of the nation's most active liver transplant programs.
NJMS defines its mission as the instruction of collaborative physicians who focus on the health of underserved and vulnerable populations.
The MD program follows a curriculum based on organ systems and emphasizes early integrated clinical practice, service learning, and professional identity development.
New Jersey Medical School has an acceptance rate of 6.6%, an average GPA of 3.7, and an average MCAT score of 514.
Check out the video below for some interesting admissions stories to Rutgers NJMS…
DETAILS:
---
2. Rutgers Robert Wood Johnson Medical School in New Brunswick
Robert Wood Johnson Medical School (RWJMS) is one of the two graduate medical schools of Rutgers University. RWJMS operates two campuses in Piscataway and New Brunswick in New Jersey. The Robert Wood Johnson University Hospital is the main affiliated hospital.
US News ranks Robert Wood Johnson Medical School #70 for Research in 2021. The school also ranks among the top 10 percent nationally of medical schools in minority student enrollment.
Launched in 2021, the new 5 C's curriculum emphasizes curiosity, critical thinking, clinical skills, competence, and compassion. In addition to these areas of focus, health systems science, evidence-based medicine, and the community context for family-centered care serve as unifying themes across the four years.
The program aspires to be recognized for preparing its students to provide high value, ethical, and appropriate healthcare in an ever-changing system. The school's culture promotes well-being. Students are taught to develop behaviors and embrace strategies that lead to better health for all.
The acceptance rate for RWJMS is 5.7%, the average GPA is 3.69, and the average MCAT score is 512.
Get a closer look at Rutgers RWJMS in the video below…
DETAILS:
---
3. Cooper Medical School of Rowan University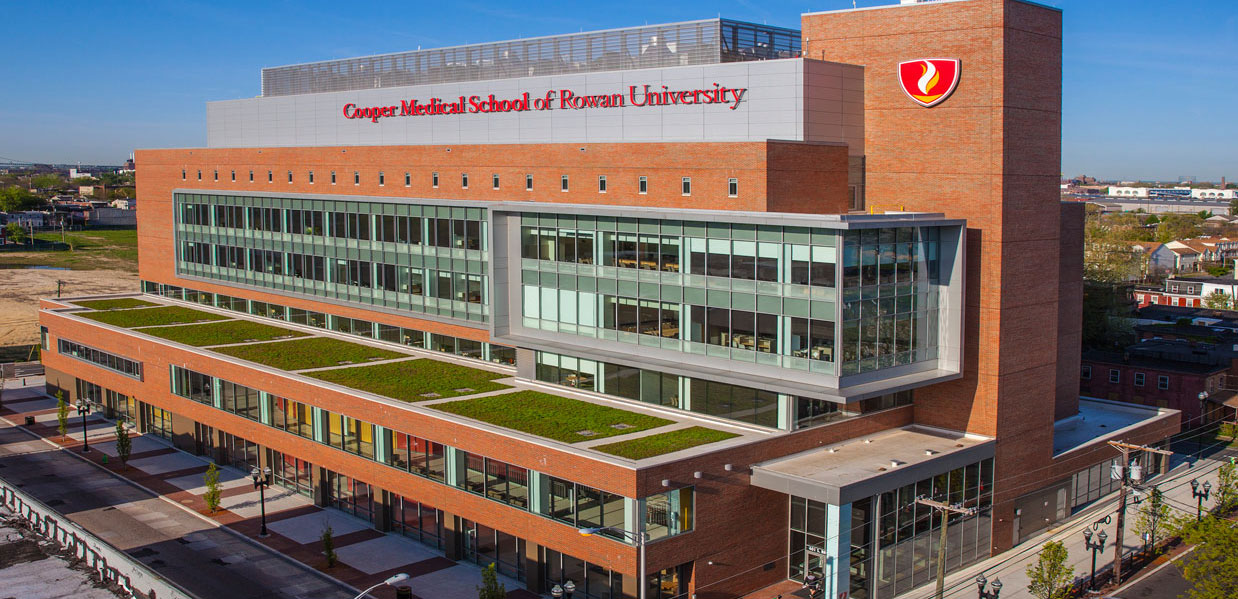 Cooper Medical School of Rowan University (CMSRU) opened in summer 2012 in Camden, New Jersey. It's the only institution granting a four-year MD in South Jersey. It was established to improve healthcare and address the physician shortage in the region.
The Cooper Medical Education Building contains a 260-seat auditorium, 25 active learning rooms, a clinical simulation center, and a satellite medical library on the Cooper Health Sciences campus.
The curriculum is designed as a seamless continuum over four years. It integrates knowledge of scientific concepts, early experience in patient care, teamwork, and activities that benefit the greater community. Teaching at Cooper is done primarily in a small group setting, and students begin seeing patients from their fifth week.
Third-year students apply their knowledge and skills with rotations in different medical specialties. Fourth-year students complete required rotations in Chronic Care, Critical Care, and Emergency Medicine. Then they take a sub-internship, followed by 20 weeks of elective time.
Cooper Medical School has an acceptance rate of 4.0%, an average GPA of 3.77, and an average MCAT score of 511.
Want to take a tour of Cooper Medical School? You can do so in the video below…
DETAILS:
---
4. Rowan University School of Osteopathic Medicine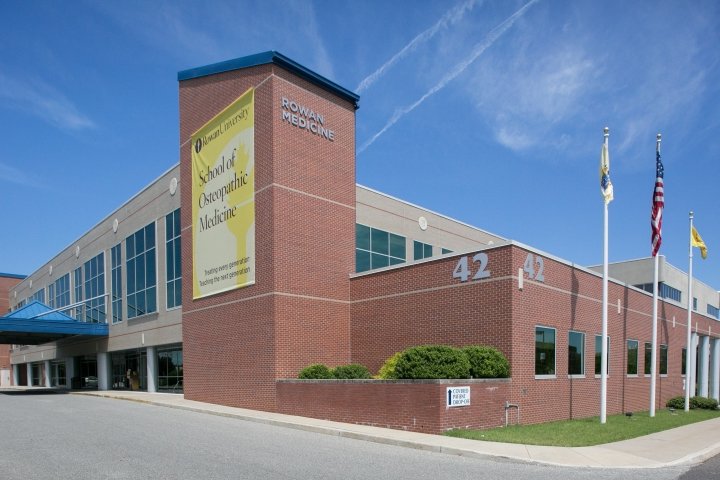 The Rowan University School of Osteopathic Medicine, also known as RowanSOM, offers a student-centered education in a family-like atmosphere. Located in the suburbs of Philadelphia, it's one of two medical schools associated with Rowan University, one of the best schools in New Jersey.
RowanSOM is affiliated with Jefferson Health Stratford Hospital and the Virtua Our Lady of Lourdes Hospital of Camden, New Jersey.
Since 2019, RowanSOM has offered two pre-clerkship curriculums, the Synergistic Guided Learning track (SGL) and the Problem-Based Learning track (PBL).
In the SGL track, organ systems are combined into blocks. Each block first presents the ideal, or normal, human structure and function. It then describes the progression of diseases, their diagnosis, and treatments. This way, it's immediately apparent to the learner how basic sciences are relevant. This approach reduces redundancy and allows for a more intuitive progression of learning.
The PBL approach is centered on the student, and clinical case presentations are a catalyst for understanding the underlying mechanisms, relying on scientific knowledge, and developing clinical reasoning skills.
The acceptance rate for Rowan University School of Osteopathic Medicine is 7.6%, the average GPA is 3.65, and the average MCAT score is 506.
Find out more about the school in the introductory video below…
DETAILS:
---
5. Hackensack Meridian School of Medicine
Hackensack Meridian School of Medicine (HMSOM) is a private medical school that opened in 2015, with a state-of-the-art campus in Nutley and Clifton, New Jersey.
The school is affiliated with the largest hospital network in New Jersey, Hackensack Meridian Health, with three regional hubs and sixteen hospitals across the state.
The curriculum relies on evidence-based teaching methods to promote effective student learning. Hackensack Meridian graduates integrate into their practice an understanding of the role of community, of context, and of the impact of healthcare system fragmentation on health outcomes. They're also trained to use evidence to make medical decisions effectively.
Central to the HMSOM curriculum, the Human Dimension course puts the focus of medicine on the individual, the family, and the community. The system is structured around the Determinants of Health, which are the many elements such as biology, genetics, and socio-economic factors that drive health and disease.
Pairs of students are matched with families in the community. Following and getting to know these individuals, students see the Determinants of Health in action through structured experiences in-home and community-based, as well as medical settings.
At Hackensack Meridian School of Medicine, the average GPA is 3.7, the average MCAT score is 512, and the acceptance rate is 4.9%.
You can take a tour of Hackensack's School of Medicine in the video below…
DETAILS:
---
If you enjoyed this article, you might find the following useful:
Born and raised in the UK, Will went into medicine late (31) after a career in journalism. He's into football (soccer), learned Spanish after 5 years in Spain, and has had his work published all over the web. Read more.